Classic Car Upholstery Restoration: What to Know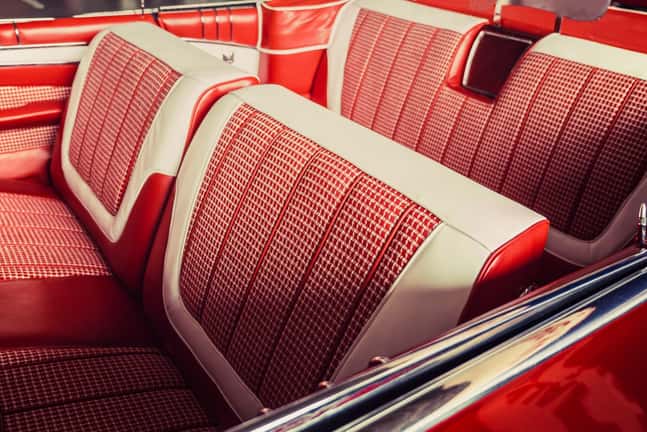 Classic rides feature elegant and iconic designs that effortlessly evoke nostalgia and admiration. Unlike new cars that depreciate rapidly, these epic vehicles retain their value and appreciate over time, making them a potentially lucrative investment. If you have a classic car that needs restoration, knowing your way around its upholstery is necessary to achieve comfortable and safe interiors. 
Today, the classic car experts at LaFontaine Classic Cars will provide you with insight ingot the world of classic car upholstery restoration. We're here to equip you with the essential knowledge needed to preserve the authentic charm and elegance of your vintage vehicle. Embark on a journey of timeless restoration with us.
What sets classic car upholstery apart?
Classic car upholstery reflects the design trends and aesthetics of the vehicle's manufacturing era. This often includes unique patterns, colors, and materials that were popular during that time.
Most modern cars have a uniform color reflected through the interior. Plastic or alloy handles and only slight differences in hues of the same color are seen throughout the vehicle.
Traditional materials for classic car upholstery include leather, vinyl, and cloth, each with its own deep, bold, and rich colors. The colors from these materials were then paired with metal accents and wood installations, each with its own distinct grain patterns to create a timeless and elegant interior.
Choosing the right upholstery for your classic cars
As mentioned earlier, your classic car upholstery serves as an aesthetic appeal while contributing to your comfort when driving. Whether you are shopping for something that is classy and comfortable or one that adds a touch of luxury to your ride, choosing the right vintage upholstery is crucial. Here are some of the factors to help you make the right shopping decision:
Originality: Classic cars carry a piece of automotive history. Maintaining their originality during a restoration is a great way to preserve their historical significance. For this reason, choose original upholstery that reflects the style and design of the car's manufacturing era.
Personal preferences: Vintage car enthusiasts have diverse tastes and styles. It is crucial, therefore, to choose upholstery that aligns with your personal preferences. This way, you will create a unique interior that allows you to express your individuality and personality.
Authenticity: Classic cars are among the most sought-after products by collectors and car enthusiasts. They are loved for their authenticity, timelessness, and historical significance. Choosing authentic upholstery is a great way to maintain the value of your car.
Durability: Durability is a crucial factor to consider when shopping for classic car upholstery. If you use your vehicle often or want something that will last for ages, the leather may be ideal due to its unmatched durability.
Types of material used for classic car upholstery
The suitable material for a classic car's upholstery should be durable, beautiful, and waterproof. Here are a few options to choose from:
Leather: Leather material is natural with an elegant appearance. They last for a very long time while offering a variety of colors to choose from. Leather also enhances the overall value of your vehicle. However, leather requires regular maintenance.
Nylon fabric: Nylon is one of the most popular upholstery materials for classic cars. Nylon is not only affordable, it is also durable. The material is also available in different colors and is less demanding in terms of maintenance.
Faux vinyl fabric: Faux vinyl fabric is soft with a high-quality feel. Its affordability makes it an excellent choice for those looking for premium upholstery material on a budget. It is also relatively easy to clean.
Vinyl: Vinyl is soft, durable, and easy to clean. It is also available in a range of colors to meet your preferences.
Maintenance and care tips for restored upholstery
It takes a lot of dedication and effort to get your old car's interior in top shape once more. The last thing you want is to degrade it due to poor care and maintenance habits. The experts at LaFontaine Classic Cars have put together a list of easy things to keep your upholstery in excellent condition for long:
Use an old cloth to wipe down spills
Spills can degrade your upholstery. It is a good idea to keep old cloth, such as an old T-shirt, to clean off spills on your interior. Using paper towels can leave behind marks and scratches on wooden parts and leather seats.
Maintain ideal interior temperatures
High temperatures can damage the interior components of your vehicle. When the temperature inside your vehicle gets too high, crack open your baby windows to bring down the temperature. You can also do this even on moderate days.
Block direct sunlight 
Sunlight can adversely affect your car's upholstery by causing color fading and leather cracking. Avoid parking in direct sunlight to prevent your interiors. However, if you can't avoid parking in direct sunlight, use a window shade or sun blocker to prevent sunlight from entering.
Vacuum regularly
Even with the most vibrant cleaning routine, dirt and crumbs may still fall onto your car seats and get between various components. Vacuuming your seats often keeps your interiors looking superb while preventing caked-in dirt from damaging the interiors.
LaFontaine Classic Cars: your source for vintage and classic cars 
The upholstery is a crucial section of a classic car that preserves its authenticity while enhancing its aesthetic appeal and providing comfort. This is why you need to pay attention to upholstery during a classic car restoration project.
Shopping for a classic car that meets your needs and budget? Check out the cars in person at LaFontaine Classic Cars, or contact us today to explore our inventory of classic vehicles. Alternatively, you can also sell us your classic vehicle. We can pick up your car from any location in the U.S.
Image Credit: socrates471 / Shutterstock