Classic Car Buying Guide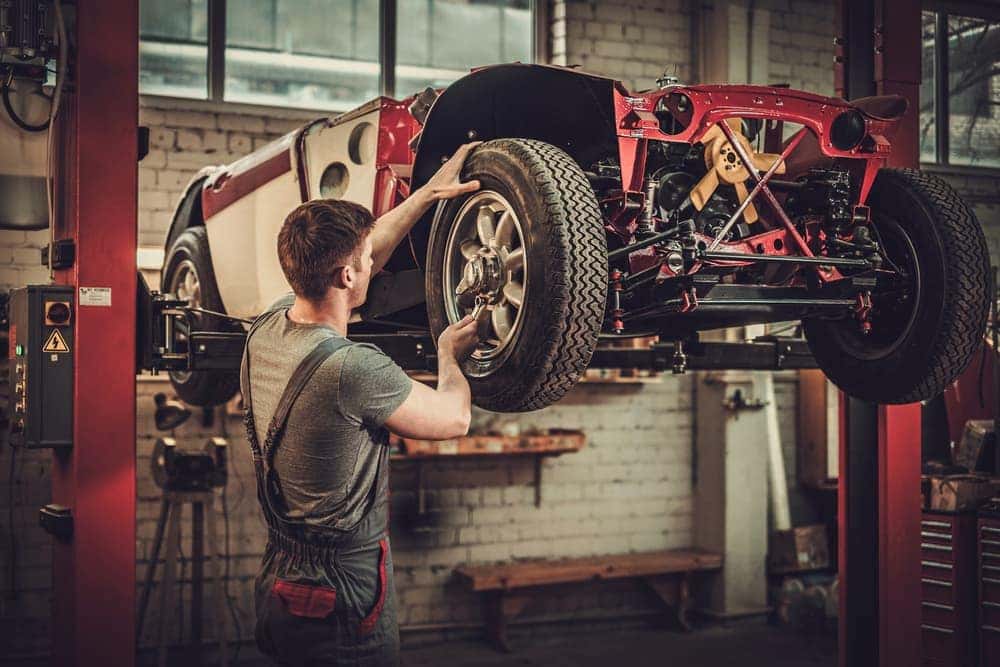 There is a certain prestige to owning a classic car. For many people, buying and restoring a vintage truck or classic muscle car is a dream that is years in the making. If you've already started your classic car collection, congratulations! But remember, there's always room for another vehicle in your garage. 
If you haven't taken that leap just yet, don't worry. While working on and owning a classic car takes a good amount of knowledge and skill, the learning curve boosts the rewards. A little expert advice is all you need to get started. With that in mind, LaFontaine Classic Cars is proud to present our classic car buying guide. 
Choosing the Right Classic Car
Everyone has a dream car at the top of their wish list. That's where most people start when searching for a classic model or restoration project. But sometimes, the right classic car isn't your dream car. The first step in our classic car buying guide is understanding what constitutes a good value. Securing a high-value investment, however, involves compromise. Start by answering some big questions, such as:
Do we want to buy a fully restored vintage vehicle?

Do we want to work on the restoration ourselves? 

What kind of maintenance costs are we willing to pay?
Once these questions are answered, you can hone in on the ideal vehicle for your tastes. Bear in mind that the restoration process itself can be expensive. The question is, "Would I rather spend money upfront to get a fully restored, ready-to-drive vehicle or space out my payments restoring a car?" 
Old Car Buyer's Guide
Buying a vintage car is about more than just selecting your favorite model and securing a high-value investment; it's also about evaluating the vehicle's overall quality once you've found it. In this section of our classic car buying guide, we'll review some additional factors you should consider once you've found a prospective vehicle.
While there are at least a thousand different things to consider before you say "Yes!" to a classic, vintage vehicle, we believe the following two factors to be most important:
The state of the body and frame 

That the car's VIN and part numbers match
Rust on Classic Cars
Rust can be a deal-breaker. If you find a classic car with significant body rust, that can be a major red flag unless you remain clear-eyed about the restoration process. 
Extensive rust to the frame means a lot more work on your part. You'll have to use considerable muscle and resources to restore the original frame. In most cases, rust means it's a lost cause. Instead, you'll have to replace sections of the body, diluting the original vehicle's value and prestige. 
Body rust is also an indication of damage to drivetrain components, meaning hidden danger may lurk just below the surface. 
Classic Car Matching Numbers 
What's your purpose for buying a classic car? Is it for fun or to fulfill a lifelong dream? VIN and part numbers don't matter in the long run. However, if you're looking to acquire a solid investment that will appreciate over time, the VIN number becomes very important. To authenticate the vehicle's value, ensure that the vehicle's VIN and part numbers (axle, engine, and transmission) match. 
Your Key to the Best Classic Cars and Trucks
Buying and restoring a vintage vehicle is a lifelong dream for many. Whether you're looking for personal enjoyment or a high-value investment that will pay dividends in the long run, a classic car can be an incredible purchase. 
Before you buy, however, it pays to ask questions about the vehicle itself while being realistic about the work, time, and resources involved in its maintenance and upkeep. If you're ready to pull the trigger and purchase a classic car, let the LaFontaine Classic Cars family help you. Contact us today to start your search! 
Image Credit: Nejron Photo/Shutterstock